Content of Axanta Client Carousel will be load on save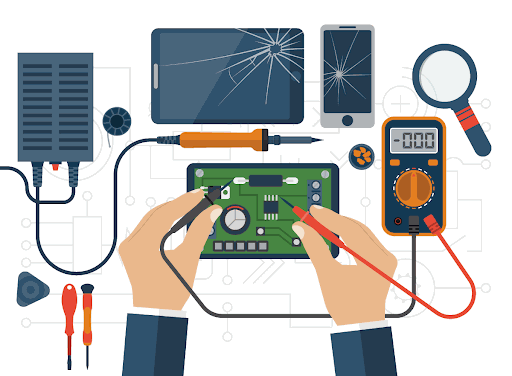 Revolutionize & Transform your Repair Business with Axanta
Axanta's repair management is a cloud-based solution that allows users to keep an eye on the repair jobs, have adequate inventory and control multiple store locations. In addition, the solution generates an automatic reminder when the business is low on any specific part and needs to be replenished.
Axanta's repair management is integrated with Axanta ERP where you store all the needed information concerning the equipment. Items like serial numbers, date purchased, company/person who completes the repairs, etc. Moreover, this information is automatically merged when submitting a repair request, saving time on double entry.
Track cost, part numbers and other vital information used in repairs and maintenance. Pull reports on total cost of repair for any given period. Customize and add fields to the repair management as per your requirement and provide a rich user experience in the repair vertical with AXANTA.
Work Order Management
Improve workflow and efficiency by allowing to schedule, assign and close work orders quickly and easily. Configure work order dashboard with desired fields, automatically track all the work orders and capture history associated with every piece of equipment.
Increase Safety
Aid organization in regularly checking and maintaining equipment and meeting safety standards to prevent malfunction and critical failures. Minimize loss of work time due to accidents and make your equipment safer.
Enhance Productivity
Enable users to access real-time information, check inventory and initiate work orders through smartphones. Provide technicians with details about procedures, parts, and tools necessary to perform a job, so they can work without delay.
Key Repair Management Functions
---
Content of Why Axanta? will be load on save
Detailed Features
Multilingual support to use the system as per choice.
Simple and easy to use interface for immediate service.
Keep tabs on your stock, order directly from integrated supplier.
Update service call status on the go and in real time.
Support for mobile scanners and other handhelds.
Ability to allocate spare parts & monitor man-hours consumed in the repair.
Track job-wise performance of resources on key-metrics.
Execute efficient management of the repairs of any and every type with highly specific information available at single click.
Manage spare parts inventory and view reports across different warehouse locations.
View the movement of spare parts across different warehouse locations.
Effectively manage and supervise all the repair centers present across different geographic locations in a single view.
Keep a track of repair parts consumed in your repair projects.
Assure correct performance of maintenance on all equipment.
Build custom interactive preventative maintenance checklists for all equipments.
View scheduled task and repair tickets assigned to technicians.
Track cash movements between different shifts to reduce error, theft & discrepancy.
Manage tickets as per the customer expectations by adding diagnostic notes about the device.
Analytical Report to give a complete view of repair from a single screen.
Detailed Features
---
Multilingual support to use the system as per choice
Simple and easy to use interface for immediate service
Keep tabs on your stock, order directly from integrated supplier

Update service call status on the go and in real time
Support for mobile scanners and other handhelds
Ability to allocate spare parts & monitor man-hours consumed in the repair
Track job-wise performance of resources on key-metrics
Execute efficient management of the repairs of any and every type with highly specific information available at single click
Manage spare parts inventory and view reports across different warehouse locations
View the movement of spare parts across different warehouse locations
Effectively manage and supervise all the repair centers present across different geographic locations in a single view
Keep a track of repair parts consumed in your repair projects
Assure correct performance of maintenance on all equipment
Build custom interactive preventative maintenance checklists for all equipments
View scheduled task and repair tickets assigned to technicians
Track cash movements between different shifts to reduce error, theft & discrepancy
Manage tickets as per the customer expectations by adding diagnostic notes about the device
Analytical Report to give a complete view of repair from a single screen
Content of Axanta Testimonials will be load on save
Content of Axanta Min Cost & Max Profit will be load on save